For most of us, hiking means trekking up mountains to enjoy spectacular views or walking briskly through the wilderness to take in the breathtaking beauty of our surroundings. But what about the places that have been forgotten? The ancient ruins that were once rich in architecture, the ghost towns that were once home to families or even a dark and gloomy graveyard? These unusual hikes are generally overlooked but are often the most memorable. Walking through these derelict and dilapidated scenes might even bring out the Indiana Jones in you!
We have put together a list of the top 10 abandoned hiking trails, so dust off those hiking boots and get ready to explore!
Awesome Abandoned Places to Hike
1. Kayakoy, Turkey
This hike is truly incredible. Kayakoy is 13km from the gorgeous town of Fethiye in Turkey. In 1932 a population exchange took place and left this gorgeous town abandoned. Standing at the bottom and looking up at the small stone houses climbing up the hills is truly awe-inspiring. It's so easy to imagine the hustle and bustle of the community and the families going to one of the many stone churches and courtyards in the town. A round trip through Kayakoy's tiny streets is roughly 10 km.
Only 20 minutes from the ghost town, is the gem of the Turquoise coast, Oludeniz beach. If time allows, be sure to visit one of the most beautiful beaches on the planet.
2. Serapong Trail, Singapore
Situated in one of the long forgotten parts of beautiful Singapore lies the Serapong mountain trail. Mount Serapong was home to one of the many forts in Singapore that protected the colony's ports from pirates. Try not to let the warning signs and unstable foundations of the fort discourage you, the hike itself is awesome! The road leading up to it looks like something out of a Stephen Spielberg movie and the fort itself is surrounded by lush, green trees. Step inside and you'll see how it has been worn down over time. It is not advisable to do this hike alone in case of any accidents.
3. Widow Jane Mine, New York
From farming trout to recording music this abandoned mine has been used for almost everything. The mine was originally used for extracting natural cement, commonly known as Rosendale cement. Some of the most iconic landmarks in the USA were built out of Rosendale cement, such as the Brooklyn Bridge, Washington Monument and even the base of the Statue of liberty. This isn't a serious hike, it's more of a brisk walk, but be sure to wear boots because there will be a lot of damp spots and water in these fascinating mines.
4. Humberstone, Chile
Humberstone in Chile was founded in 1872 and was one of the largest saltpeter extractors in the region. These days, it's a ghost town and is actually a museum. The dry desert air has preserved so much of the area that you can actually see how everything once operated. The highlight of the hike is definitely the old trains which were used for mining. Humberstone is open to the public from 9 am to 7 pm daily.
5. Bhangarh, India
Aka the most haunted place in India… Okay, so this hike is for the brave among us. Access to Bhangarh is strictly prohibited before sunrise and after sunset. Legend has it that a magician, put a curse on the place, saying that everyone would die in one night and their souls will never leave. Um… that's pretty horrifying. If you are staying in Dehli, it will take you roughly two hours to drive to the entrance of Bhangarh. The hike through the many twists and turns in the old buildings could potentially keep you occupied all day, just be sure to leave before 6 pm.
6. Pompeii and Mount Vesuvius, Italy
Pompeii is one of Italy's most famous historical sites. They are also the most ancient ruins on our list. Since 79 AD to be exact, Pompeii has captivated the world for over 2000 years. The devastation caused to the town by an erupting Mount Vesuvius is incomprehensible. The two-hour hike can be fairly taxing, especially up the steep parts of Mt Vesuvius, but once you reach Pompeii it's much less strenuous. You may want to take along a light, folding seat for short breaks while you enjoy the sights.
Tourists sometimes skip the Vesuvius Hike and simply stroll the ancient streets of Pompeii to explore side streets, arenas and surprisingly well-designed houses.
7. Belchite, Spain
A site where "the ravages of the war are more striking…than any other place in contemporary Spain." The town was completely destroyed during the Spanish Civil War and resulted in the death of some 3000 people. Belchite has been left untouched to stand as a memorial to those who lost their lives. Individual hikers are not prohibited to enter the town, but luckily there are many guided tours to choose from which last approximately 90 minutes.
8. Chernobyl, Ukraine
You've probably heard of the Chernobyl nuclear disaster. Unfortunately, you can't simply grab your rucksack and head to the disaster site; every visitor has to give 11 days notice of intention to visit and must be accompanied by a tour guide. The entire walk is 30km and is like stepping into a time capsule. The youngest on our list abandoned in 1986, Chernobyl still has paintings, toys and everyday household belongings in place. It is recommended to partake in the 2-day tour to make sure you see every bit of the town that was once home to 50 000 people.
9. Kolmanskopp, Namibia
Over a span of 40 years, this diamond mining town in Southern Africa developed, flourished and then died. The town began to lose popularity during WW1 and met its demise when the diamond prices crashed after the war. The hike isn't particularly difficult or long, but Namibia is a mostly very hot desert, so be sure to pack water and put your sunscreen on for this 60 min trek. Once you have completed the walk around this abandoned town, you can enjoy a coffee and even buy a diamond in the curio shop.
10. Chaco Canyon, New Mexico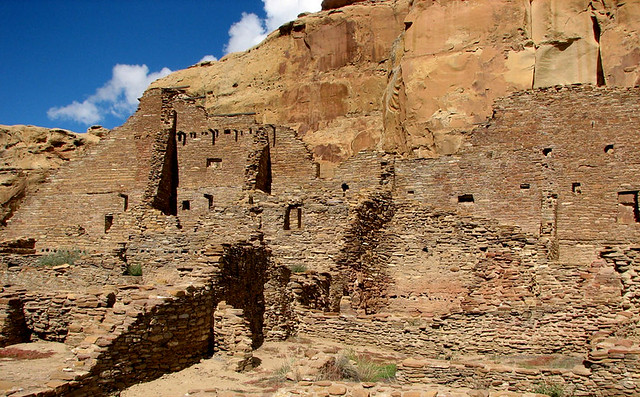 This derelict town is situated 70 miles from the nearest urban area. You will marvel at the sight of these ancient stone ruins situated in New Mexico. This timeworn civilization was in full swing from the mid 800's to 1250 AD and mysteriously died out in the 13th century. The hiking trails range from relatively easy to demanding as you can climb up to 450ft!
What an adventure lays waiting! If you want to try something different, maybe even a little eerie, why not attempt one of the amazing trails on our list? You won't be disappointed and you'll even have some really great stories to tell!
Like This Post? Pin It For Later!
BIO
Hi, I'm Bianca, from Cape Town, South Africa.
My family and I have visited many wonderful countries and experienced amazing places and cultures over the last 20 years. The list above includes some of them. We highly recommend visiting Pompeii and also Kayakoy as these are absolute favorites.